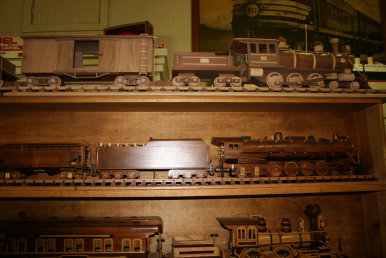 About Us
The Saint Louis Southwestern Railroad, best known as the Cotton Belt, was originated in Tyler as the Tyler Tap, a narrow gage line built to carry cotton and produce to the town of Big Sandy, Texas. The museum is located in the Cotton Belt Depot which served railroad passengers from 1905 until 1956. The Museum provides memories of the operation of the Cotton Belt and a venue for the public, both young and old, to learn about the history of the railroad industry. The Museum is operated by volunteers of the Tyler Tap Chapter of the Cotton Belt Rail Historical Society.
The mission of the Museum is:

1. The preservation and restoration of local railroad history through the establishment and operation of an appropriate museum to store and display railroad artifacts and memorabilia.

2. To collect, research, and document historical events pertaining to the development, growth, and operation of the Cotton Belt in East Texas.

Included in the museum is the fabulous "Bragg Collection" which is a vast collection of Lionel "O" gauge electric trains that Mr. and Mrs. Clyde Bragg accumulated over a period of 26 years. In 1975, Mrs. Bragg gave her husband, Clyde, a small Lionel train for a Christmas present because he had never had a train as a young boy. By the time of his death, Mr. Bragg had collected about 200 locomotives and over 1,600 rail cars. Additionally, there is a vast collection of house, vehicles, airport, bridges and other miscellaneous pieces. Mrs. Bragg contributed the collection to the City of Tyler for display in the Tyler depot and with the help of the Tyler Tap Chapter, construction on a display for the Bragg Collection layout started on March 5, 2005. The first trains on the layout were run on June 4, 2005, in conjunction with the Cotton Belt Depot centennial celebration. The Tyler Tap Chapter maintains the collection and display in conjunction with the museum.